We recently have had a few concerns regarding how some Care Agencies and Care Homes in Doncaster are dealing with people living with Dementia. We understand that not everyone has a full understanding of the condition, so as a result, we have decided to offer Dementia Awareness Sessions. Our intention is to deliver this to the staff at Agencies and Care Homes in order to provide them with more information and enable them to develop skills when working with people living with Dementia.
This is a brand new service to Doncaster and it will help Domiciliary and Care Home staff understand more about Dementia. These new information sessions will enable staff to apply these skills in the workplace, making a difference to residents by being able to apply strategies whilst working with people living with Dementia.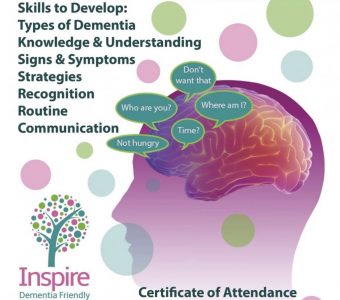 The benefits of the sessions include: 
Residents feel more relaxed
Sessions could help make a difference to your CQC inspection.
Families will feel happy with the staff's skills.
Staff will feel more confident in learning new techniques 
You can access the flyer to print off by clicking HERE, and we would be very grateful if you could share this with your colleagues. Or alternatively, please contact Marilyn Cockett who will be happy to provide you with a small supply.
Please get in touch for more information and to book your session.